Recipes
I LOVE TO COOK! It's how I unwind and clear my brain (and sometimes get away from the frantic life of raising twins and working full time). Below are some of my very favorite tried and true recipes.



LITTLE PEOPLE FOOD


Chicken with Sweet Potato and Apple (7-9 months)
1 cup chopped chicken breast (about 4 oz)
1/2 apple, peeled and chopped
1 sweet potato (about 11 oz.), peeled and chopped
(I buy it pre-peeled and chopped, which makes life SOO easy!)
1 cup chicken or vegetable broth (unsalted, or make it yourself)
Heat the oil in a small saucepan, add the onion and saute until clear

Add the chicken and saute until it turns opaque.

Add the apple, sweet potato, and broth. Bring to a boil, cover, and simmer for 15 minutes.

Puree to death.
Makes 4 portions. Great for freezing.
Apple and Pear with Cinnamon
2 medium apples, peeled, cored, and chopped
2 medium pears, peeled, cored, and chopped
1/4 cup unsweetened apple juice or water
Generous pinch of ground cinnamon (optional, but DO IT!)
Put the fruit into a saucepan together with the apple juice or water (I use filtered H2O) and cinnamon (if using, which YOU ARE), cover, cook over low heat for 6 minutes (or until the kids start screaming). Blend the fruit to a smooth puree (I use the Magic Bullet for this).
Start this recipe at 6 months. Makes 4 portions. Suitable for freezing.
2 tablespoons unsalted butter
1/2 cup chopped onion
2 medium carrots, peeled and chopped
2 medium potatoes (8 ounces), peeled and chopped
1 cup water
1/3 cup canned or frozen corn kernels
1 to 2 tablespoons of your baby's milk/formula
Melt the butter in a pan and saute the onion for 1 minute. Add the carrots and saute for 5 minutes. Add the potatoes, cover with the water, and cook over medium heat for 15 minutes. Add the corn and continue to cook for 5 minutes. Puree through a food mill and stir in the milk to make the right consistency for your baby.
Start this recipe at 6-7 months. Makes 3 portions. Suitable for freezing.
BIG PEOPLE FOOD
Baked Teriyaki Chicken
Makes 6 Servings
(or just 2 if you're fat like me and my hubby)
1 cup white sugar (or you can use granulated Splenda)
1 cup low sodium soy sauce
1/2 cup apple cider vinegar
1/2 tspn ground black pepper
I also like to sautee some red and green bell peppers in some canola oil seasoned with Morton's Nature's Seasonings. I throw them on top of some white basmati rice and pour the chicken and sauce over all of it. Makes a great dinner that's quick to prep and you can prep the kids' food while it's cooking!
Aunt Michele's Big Texas Gingerbread Cookies
Makes 492 Cookies
(jk, I don't know how many it really makes, but I know it's A LOT!)
1 cup vegetable shortening (Crisco)
Royal Frosting (recipe below)
Sift flour, baking soda, salt, and spices onto wax paper. Beat veg shortening with sugar until fluffy light in large bowl; slowly add molasses, egg, and vanilla. Stir in flour mixture 1/3 at a time, blending well after each addition, to make soft dough. I use the dough attachment for the mixer.
Wrap dough in foil and chill 4 hours or overnight (this is where forethought and PLANNING come in!). Roll out dough 1/4 at a time to 1/8" thickness. I put it on a wooden cutting board covered in flour, saving some flour on the side to wipe my rolling pin down with when the dough gets sticky (which it does often). Cut using whatever shapes you like!
Place 1" apart on ungreased cookie sheet. Bake at 350 degrees for 8 minutes, until firm but not too dark. Be careful here. Gingerbread is not SUPPOSED to get DARK...in fact, it shouldn't really change color much at all from the uncooked dough, so you really have to watch the cookies.
Remove to wire racks with spatula. I found mine
here
. Let cookies cool before frosting.
Royal Frosting
Makes enough to frost about 3 less cookies than you need. Make a BUNCH.
3 1/2 cups confectioner sugar 10x
Beat egg whites and lemon juice until foamy. Slowly beat in sugar until frosting stands in firm peaks and is stiff enough to hold a sharp line when cut with a knife. Keep frosting covered with a damp paper towel between uses to keep from drying.
Do not store cookies until the frosting is dry. Once again, forethought and planning!
Homemade Cranberry Sauce
12 ounces cranberries (fresh or frozen)
1/2 cup freshly squeezed orange juice
1/4 teaspoon ground cinnamon
Use a 2-quart slow cooker. Rinse the cranberries andn put them into the stoneware. Add the orange juice, water, sugars, and cinnamon. Stir.

Cover and cook on high for 3 hours, cooking every so often.

When the skin on the cranberries has softened, use a potato masher to squish the cranberries up. Stir well.

Continue to heat for 30 minutes with the lid off.
This can be made up to 2 days in advance, but is best FRESH!
CHICKEN ASPARAGUS ROLL-UPS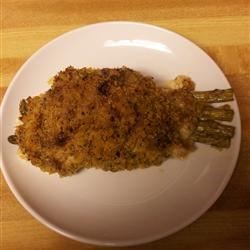 3 tablespoons Dijon mustard
1 lemon, juiced and zested
2 teaspoons dried tarragon
1 teaspoon ground black pepper
16 spears fresh asparagus, trimmed
4 skinless, boneless chicken breast halves
4 slices provolone cheese
Preheat oven to 475 degrees F (245 degrees C). Grease a baking dish. In a bowl, mix together the mayonnaise, Dijon mustard, lemon juice, lemon zest, tarragon, salt, and pepper until the mixture is well combined. Set aside.

Cook asparagus in the microwave on High until bright green and just tender, 1 to 1 1/2 minutes. Set the asparagus spears aside. Place a chicken breast between two sheets of heavy plastic (resealable freezer bags work well) on a solid, level surface. Firmly pound the chicken breast with the smooth side of a meat mallet to a thickness of about 1/4 inch. Repeat with the rest of the chicken breasts.

Place 1 slice of provolone on each chicken breast, and top the cheese with 4 asparagus spears per breast. Roll the chicken breasts around the asparagus and cheese, making a tidy package, and place, seam sides down, in the prepared baking dish. With a pastry brush, apply a coating of the mayonnaise mixture to each chicken breast, and sprinkle each with panko crumbs, pressing the crumbs into the chicken to make a coating.

Bake in the preheated oven until the crumbs are browned and the chicken juices run clear, about 25 minutes.
NOMNOM EGG AND BACON BISCUIT
You can use any brand, but these are the brands that I chose.
I started with these homestyle Grands Buttermilk biscuits by Pillsbury. First, preheat the oven to 350 degrees. Next, I split the biscuits in half so that there was a top and a bottom, and I fitted the bottom pieces into a cupcake tin. I then cooked one slice of turkey bacon and scrambled one egg for every sandwich I was making (there's only 2 of us, so I only made 6 sandwiches, saving the last two uncooked biscuits in a ziploc bag in the fridge so that I can make them with our next dinner).
Once the eggs were scrambled and the bacon was done, I scooped spoonfuls of the eggs into the bottom parts of the biscuits, chopped up the bacon and put that on top, and then topped that with cheese (3 with shredded sharp cheddar, 3 with white American slices). I then put the tops of the biscuits back on and put the cupcake tin into the preheated oven for about 15 minutes.
Once the sandwiches were done (I checked by poking the top bun with my finger and looking at the color, very technical, I know), I let them sit for about 5 minutes to cool and then I used a butter knife to cut around the edges, and the sandwiches easily popped out of the tin in one chunk.
We then enjoyed breakfast together(ish). Hershey was able to finish 3 of these puppies in one sitting, while I one-handed two of them while giving Jane her bottle. We didn't exactly time it quite right, because I took a 20 minute long shower once we put the girls down for their morning nap since I didn't shower yesterday at all (I know, EW). So our feeding ran into theirs. But it was still delicious and worth it!
This was one of the easiest and most delicious breakfasts I've made in a long time. It took me maybe 20 minutes all together (30 if you count clean-up time). I even saved one for tomorrow morning!